Have you been searching for a website template you can use to design your genealogy website? There are lots of free templates out there, some specific for genealogy, some not. Some of these are free and some are not. Most free templates require a linkback to the site offering them. REMEMBER: All templates are NOT created equal.
Before you start using a template you have downloaded, the very first thing I do is to validate it. It is much easier to correct coding before you start adding your own content than after you are finished. Make sure you understand enough html coding and css (cascading style sheets) to fix or change things that might go wrong. The majority of free templates come with NO technical support.
I have created a series of templates you can use for your genealogy website available for FREE download at Genealogy Web Creations. They are all css based layouts with the exception of one that uses tables. Each of them validates "out of the box."
This is just one of the templates available.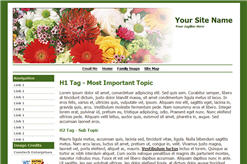 If you have questions or need help, feel free to contact me. If you use any of the templates a linkback would be appreciated but is not required.